30 years of experience

in European Projects
AEIDL is an association that learns from and fosters community-led innovation in areas such as territorial development, employment, entrepreneurship, social inclusion, environment, climate action and green growth.
We add value by supporting and facilitating peer learning among local and national actors across Europe, analysing and evaluating relevant EU policies and advocating for enhanced support to community local action to help build a Europe for citizens.
To find out more about our values, principles and vision for future, you can read our strategic plan.
"We believe in the power of connection, synergy, learning, knowledge sharing and development to foster a co-culture for the common good."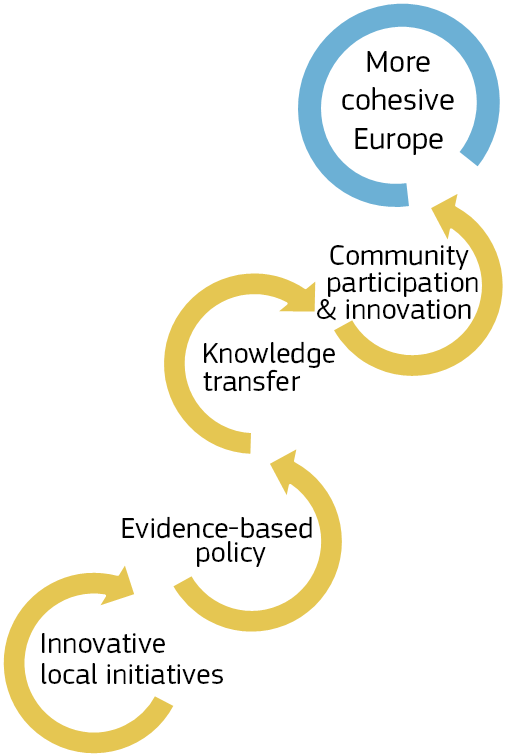 Innovation
The power of local community-led action and innovation.
Empowerment and participation
Community and citizen empowerment and participation in local development.
Evidence
Local evidence and experiences to guide policy developments.
Network
Alliances, partnerships and networking.
AEIDL, the European Association for Innovation in Local Development, was founded in 1988 by like-minded individuals who believed that European integration could make a positive contribution to citizenship and to the sustainable development of local communities. Its objective was to contribute to bringing Europe closer to its citizens and to promote interaction at local level, between all those who wanted to open up new development opportunities.
The birth of AEIDL
AEIDL was born at an important moment in European history. It was established in 1988 to animate a local approach to development by delivering the ELISE information and networking service for local employment initiatives. Significant changes were occurring at that time. In June 1988, the Commission led by Jacques Delors gave a new momentum to the process of European integration by finalising the conditions for the internal market, also laying the foundations for the single European currency. In the same year, the European Commission Communication on "The Future of Rural Society" was published, presenting the first strong statement on the need for a European rural development policy.
This led to the setting up of the LEADER Programme, which was the first time the 'bottom-up' approach was used in EU policy and practice, strengthening local citizen initiatives across Europe. AEIDL would later play an important role in LEADER, raising its profile across much of rural Europe.
The territorial dimension
In 2007, the territorial dimension, which is at the heart of all AEIDL's actions, gained stronger recognition. Complementing the principle of economic and social cohesion, the Lisbon Treaty added "territorial cohesion", the aim of which was to build on the strengths of each Member State of the EU, enabling them to make the greatest possible contribution to sustainable development and European integration.
Despite the difficulties encountered, the results are there for all to see: an unprecedented transformation in Member States, high-quality infrastructure in all regions, including those at the very periphery of the EU, a major reduction in disparities between countries, a significant drop in unemployment rates, and a European social model serving as an example for the rest of the world.
AEIDL's expertise
Since its creation, AEIDL has been an active stakeholder in various policies introduced by Europe. Policies that targeted local initiatives, promoting communication and exchange at European level, identifying good practices, strengthening local capacities, empowering local actors, supporting cooperation, exploiting and disseminating knowledge, and evaluating results.
Among the initiatives we have been involved in over the years are: the Local Development and Employment Initiatives (LDEIs), the Rural Carrefours, the Territorial Employment Pacts, rural development policies including the LEADER Community Initiative and its equivalent programme for fisheries areas (FARNET), the EQUAL Community Initiative, numerous cooperation programmes, urban development initiatives (URBAN, URBACT), the EU's main environment programme, LIFE, the local development aspects of the EU Cohesion policy, ESF initiatives focusing on transnational cooperation, social enterprise and the social economy, migration (AMIF), socially responsible procurement and gender.
These different initiatives have contributed to building an open, inclusive, and imaginative Europe – a proud achievement for countless local actors and project promoters who have received EU support for their projects. These people are proud to be involved in the construction of a community unique in the world, rich in diversity and multiculturalism.
The future of local development
We are convinced that local initiatives, citizen involvement, social innovation and experimentation, the identification of and respect for shared assets, solidarity between regions here and elsewhere, and the invention of new forms of multi-level and multi-stakeholder governance, can all contribute to building the Europe we aspire to – a Europe rich in the diversity of its landscapes, its communities and its cultures, open to the world, and striving for a new economic and social equilibrium.
Our decades of experience in local development have taught us a lot about the inventiveness of local communities when public and private and community actors get together and start listening to what is happening in their areas. It has has also shown us how communities are trying to find solutions to the problems posed, with a view to constructing – on a local level – a better society.
In the face of unprecedented change and the need to reinvent the future ("tomorrow's solutions"), what is now needed more than anything is to restore hope and the capacity to act, to listen to the disaffected, to those whose lack of hope makes them silent, to support initiatives, and to bring together all those wishing to innovate.
Interested
in working with us?
AEIDL is regularly looking for new collaborators.